Is there anything more frustrating than having an area in your home where it is impossible to get a solid Wi-Fi connection? It's 2021 and wireless Internet needs to be extremely reliable with superb connectivity for all of the smart devices connected throughout your house. With mesh Wi-Fi, it is. In this article, we are taking a deeper look into our favorite home mesh systems.
By now, you all know how important your router is for speeds, reliability and connectivity. Mesh Wi-Fi takes it up a notch, or 10, by having multiple access points that work seamlessly to provide a consistent and reliable connection throughout every nook and cranny in your house. View the difference between routers, mesh Wi-Fi and Wi-Fi extenders.
Say "sayonara" to dead zones by upgrading to a new mesh networking system that automatically forwards your phone, computer or any wireless device to the closest access point as you move around your home.
Nuvera TechTrends Top Mesh Wi-Fi Systems for 2021
While choosing the top mesh systems each year, our experts factor in price, the typical household, reviews and personal experience. Choosing one of the below routers should make a positive difference in your smart home connectivity.
Mesh Wi-Fi systems are a bit more expensive than the typical wireless router but will give you the best quality connection, especially for larger homes. If you're having connectivity issues, these systems will eliminate the problem.
Google Nest is the best mesh Wi-Fi system for most households, offering superb performance and easy setup. Coverage for this system reaches 4,400 to 6,600 square feet of your home,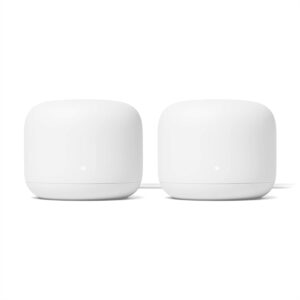 depending on if you get the two or three-pack.
One router plugs into Nuvera's modem, creating the network, and the others extend the coverage, switching seamlessly on your devices as you move about your home. This gives you a fast and reliable connection to devices in every room, and each router has ethernet ports to hardwire smart TVs and gaming systems for even more reliability.
Nest Wi-Fi is easy to set up by following the instructions in the Google Home phone app. This also allows you to easily create guest networks, prioritize devices and set parental controls. Whole-home Wi-Fi has never been easier, and you can always add new access points if you need more.
The runner-up pick for the best mesh Wi-Fi system is the TP-Link Deco X20. With next-gen Wi-Fi 6, you will be equipped with the highest networking standards. TP-Link has won several JD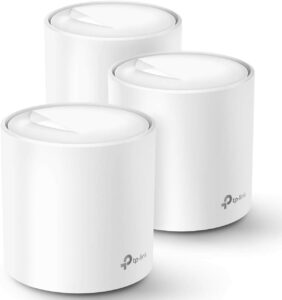 Power Awards for the highest customer satisfaction in wireless routers, and their mesh system will provide exceptional whole-home Wi-Fi coverage.
If you're sick of buffering and dead zones throughout your home, the Deco X20 will exceed expectations and provide dual-band frequencies for faster connections or more range.
This system provides easy setup in the Deco app in minutes, and also works with Amazon Alexa to use simple voice commands, such as turning the guest network on or off. You can also protect your network with a free lifetime subscription to TP-Link HomeCare, which provides powerful antivirus, robust parental controls and device prioritization.
The second runner-up pick for the best mesh Wi-Fi is the Amazon eero. If you're a fan of Amazon products and have several Alexa-enabled devices across your home, this may be the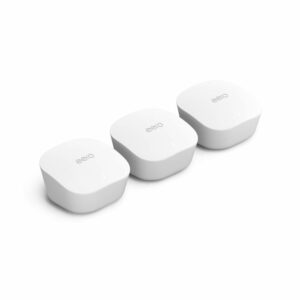 option for you.
Easily set up the devices in the eero app, manage your mesh system with voice controls, and get better wireless Internet for streaming, gaming and working in every corner of your home. The gigabit ports on each access point allow you to hardwire devices that need even more reliability.
Amazon eero's range lacks a bit, with fewer parental controls, compared to the Google Nest. Several Google reviews have stated that devices won't always connect to the next access point with the best signal.
The TP-Link Deco M5 may come as the lowest-priced mesh system of the bunch, but don't let the price fool you into thinking it is of poor quality. With over 14,000 Google reviews and 4.5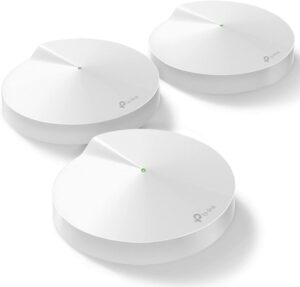 stars, there are lots of customers who have a great experience with these access points.
The M5 comes equipped with three units that work seamlessly to create a mesh network and cover up to 5,500 square feet. The built-in antivirus and parental controls are the same features as the Deco X20, and each unit comes with two gigabit ports for hardwire connection.
If you're looking to upgrade from a wireless router, but don't want to break the bank while testing a mesh system, this is the one to buy. Eliminate poor wireless Internet while on a budget.
If you're wondering whether a mesh Wi-Fi system is right for you, answer these simple questions; Are you having connectivity issues in areas of your home? Is the square footage of your home over 3,000 sq ft? Are you getting poor connectivity in your backyard? Do you want to hardwire devices throughout your home for more reliable connections?
If you answered yes to any of these, you could benefit from a mesh system. As always, if you need any help setting up a new system, our technology solutions specialists are ready and available to help.
We hope you enjoyed this blog. Our goal is to inform you and make technology easy. Nuvera's local experts are always willing to assist you in your technology purchases from our retail locations. As an Amazon affiliate, when you buy through links on our site, we may earn an affiliate commission.