More work, school work, and play is being done online and many people can benefit from a second external monitor to pair with their laptop, desktop computer, gaming system or smartphone. Being able to use two screens makes your online experience better. Done are the days of jamming email, message boards, browsers, games, excel spreadsheets, etc. onto one screen! In this article, we take a deeper look into our favorite portable monitors for 2021.
What Is a Portable Monitor?
Portable monitors help extend your laptop or any other device's screen, giving you much-needed screen real estate between all the windows and files you have pulled up. They're thin and easy to bring on the go, and will definitely boost productivity or improve your entertainment experience.
Nuvera TechTrends Top Portable Monitors for 2021
While choosing the top portable monitors each year, our experts factor in price, the typical household, reviews and personal experience. Choosing one of the below external monitors should make a positive difference in your productivity and enjoyment.
Increase or extend your screen space, whether for work and study or gaming and entertainment, with one of our top recommended portable monitors below.
The Lepow portable monitor is light, thin, and easy to bring with you wherever you go. It takes the top billing in our best portable monitors series, as it comes equipped with a smart cover and screen protector for added protection.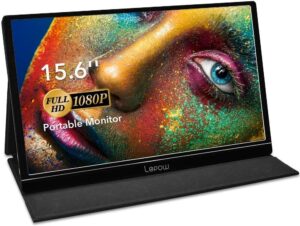 With a 15.6″ screen with Full HD 1080p, you will have a great experience using this monitor while plugged into your laptop, tablet, smartphone or gaming system. An added benefit to this screen is the HD IPS eye protection, keeping your eyes from getting tired during prolonged use.
Weighing in at only 1.76 pounds, with a slim 0.3-inch profile, this monitor is so easy to carry with you in your laptop bag or a carrying case.
It is simple to set up with your devices, as it hosts mini HDMI and Type-C ports, with cables included. Just plug and use in either landscape or portrait mode for all of your devices. This is the ideal portable monitor for extending and adding more screen space.
The runner-up pick for the best portable monitor is the ASUS ZenScreen. ASUS has won several prestigious awards in the computing space over the years, and the ZenScreen touts one of those awards.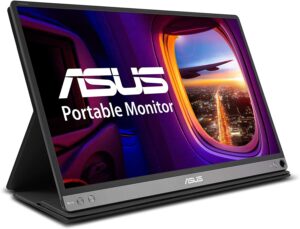 Weighing 1.7 pounds and 0.3 inches slim, this is a fantastic portable monitor for on-the-go business professionals and those seeking entertainment outside of their small smartphone screen.
The ZenScreen is 15.6″ with Full HD, and also uses eye care technology with flicker-free backlighting and blue light filtering, giving your eyes additional protection while using.
This hybrid-signal portable monitor will work with almost any laptop with just a single, reversible USB-C connector cable. It also gets power from and video from the same cable being run to your device, meaning you don't have to find additional power outlets. Take the hassle out of connecting all of your devices.
The second runner-up pick for the best portable monitor is the InnoView. This is the perfect second monitor for working from home or when you're on the go. It can be used on most devices, from Apple and Microsoft to Chromebook and Dell. The list of compatible devices also includes smartphones and gaming consoles.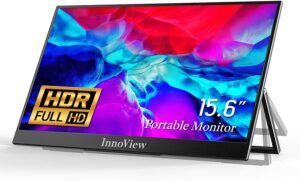 This monitor is also 15.6″ Full HD and comes weighing in at 2 pounds with a 0.22″ profile. Slim and easy to carry around with you, and the kickstand back makes it easy to set up and use on any flat surface.
The InnoView portable monitor comes equipped with five kinds of adapter cables, along with a mini HDMI port and two USB-C ports. No drivers are needed to make this function, just plug and play.
Need a portable monitor, but on a budget? The ASUS WXGA gives the best bang for your buck. Coming from ASUS, which has won several computer awards, this monitor will give you the precious additional monitor space you crave, at a bargain price.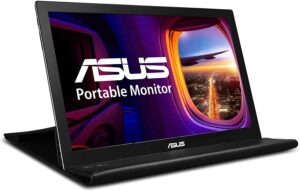 This 15.6-inch Full HD screen only needs one USB cable to run both the video signal and power it on. That means you save yourself an extra cord you need to run on your desk.
This portable monitor is as slim (0.3-inch) and lightweight (1.76 pounds) as the other higher-rated monitors in our list, which makes it just as ideal to bring along with you wherever you need to go.
Increase your productivity and save some money with this sleek and stylish portable monitor. Just note, multiple reviewers have notated the fragility of this monitor.
If you're looking for a way to increase productivity or entertainment while on the go, or if you just prefer additional screen space, then a portable monitor is a must-have. Portable monitors also make great screen-share devices if you are meeting with clients across a desk. As always, if you need any help setting up a new system, our TechTeam are ready and available to help.
We hope you enjoyed this blog. Our goal is to inform you and make technology easy. Nuvera's local experts are always willing to assist you in your technology purchases from our retail locations. As an Amazon affiliate, when you buy through links on our site, we may earn an affiliate commission.