It's the million-dollar question, what are some cool and interesting gifts to get your spouse, kids, parents, grandparents… even your pets!? It can be hard to find gifts for the whole family, but we've compiled a list of the best tech gifts on Amazon to help you out.
Best Tech Gifts for Dad / Mom / Teenagers / Kids / Grandparents / Pets
Best Tech Gifts for Dad
Dads have a lot going on in their lives. Sometimes that means they can be a little careless with where they put their wallet and keys, and the rest of the day turns into a scavenger hunt. The Tile Mate is the perfect gift for this kind of busy dad who frequently loses things, as they can use an iOS or Android app to keep track of their items and keep their head on straight.
Vinyl Record Player Bluetooth Turntable (View on Amazon)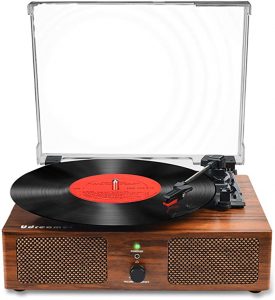 Have a music-loving, vinyl-junkie dad or husband? They may own several vinyl records, but also have all sorts of genres of music downloaded to their phone or their favorite Spotify and Pandora playlists, which makes this Bluetooth vinyl record player the perfect gift. They can either connect their phone to this record player, or it also supports three different record sizes; 7-inch, 10-inch and 12-inch.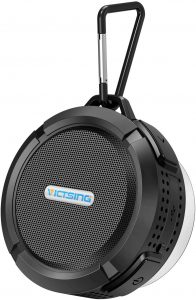 Sticking with the music theme for dads, whose dad wouldn't love listening to their favorite tunes with this waterproof Bluetooth shower speaker? It can either be hung with the sturdy hook or the suction cup back. The excellent sound quality of this speaker will bring singing in the shower to a whole new level.
Best Tech Gifts for Mom
Ember Temperature Control Smart Mug (View on Amazon)

If you're got a mom or wife who needs coffee before talky, this is the perfect tech gift for her. The Ember Temperature Control Smart Mug will keep her coffee hot for 1.5 hours on a single charge, or all day on the charging coaster. Simply connect the smart mug to an app on your phone and control the temperature of your delicious (and needed) coffee.
KODAK Step Wireless Mobile Photo Mini Printer (View on Amazon)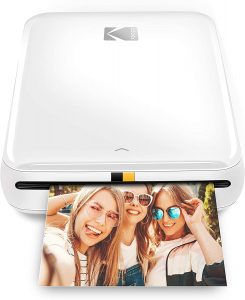 What mom doesn't have 347,521 photos of their kids, spouse, vacation and other family life on her phone? This awesome, small printer connects to any iOS or Android smartphone and setup is a cinch. Take the hassle out of photo printing by getting 2″ x 3″ size pictures in less than 60 seconds. This is also fun for the kids!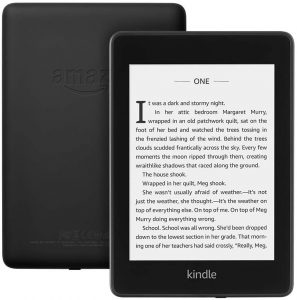 Sometimes a mom just needs a little alone time with a nice book. While the Kindle is widely known, the Kindle Paperwhite is now waterproof and has more than two times the storage of the original Kindle. Being waterproof and with a glare-free display, this is the perfect tech gift for a mom to bring with them to the pool or the beach. Bonus: You can pair this Kindle with Audible for audiobooks.
Best Tech Gifts for Teenagers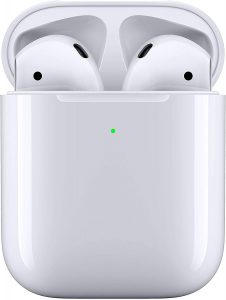 If you want your teenager to absolutely love their gift, Apple AirPods are the golden ticket. So much media is now consumed on our mobile devices, and AirPods make it convenient to listen to music, YouTube videos, movies and more, without cords or disturbing anybody around them. AirPods are best for iPhone users, but they do work with any Bluetooth-enabled device.
Fujifilm Instax Mini 11 Camera with Fuji Instant Film (View on Amazon)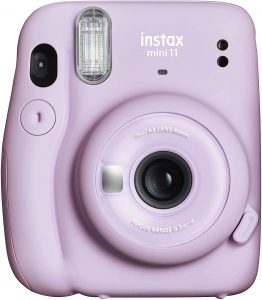 We know smartphones take great photos, but this Fujifilm Instax with Fuji Instant Film would make your teenager the hit of any get-together. A blast-from-the-past type of gift, it is still fun to have instant photos printed after snapping them. Time to put the smartphone camera away and show your teen what it was like back in your day.
Wireless Bluetooth Headphones Beanie Winter Hat (View on Amazon)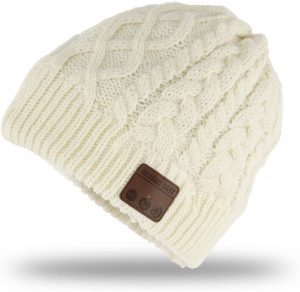 Stylish and functional. This Bluetooth beanie will be a hit for the music-loving teenager in your life. Playing tunes while on a walk between classes, shopping downtown, walking the dog or on an outdoor run will be even easier with a wireless Bluetooth headphones beanie. There are several options to choose between for both teen boys and girls.
Best Tech Gifts for Kids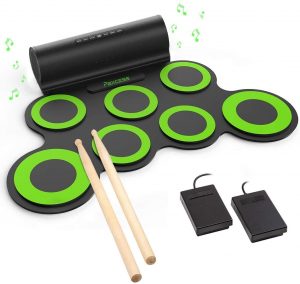 Have a talented drummer on your hands, but can't stand the hectic banging of the snare or hi-hat? This electronic drum set will keep your young kid busy for hours and can be connected to headphones to ensure the kids are being as quiet as possible while rocking out. This is a fun gift that will enhance their drumming ability, or just for them to have some soundless fun.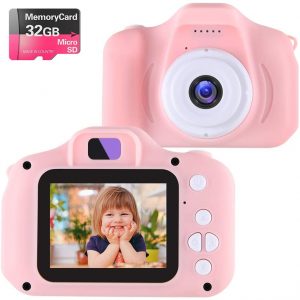 This is a cute and fun gift for younger kids who enjoy taking pictures. This children's digital camera comes with fun photo effects, frames and filters, and will keep them from asking to use your smartphone to take photos. It takes real photos in 1080p HD and saves them to a memory card that can be printed at any photo kiosk. The camera comes in pink for girls and blue for boys.
Celestron 70mm Travel Telescope (View on Amazon)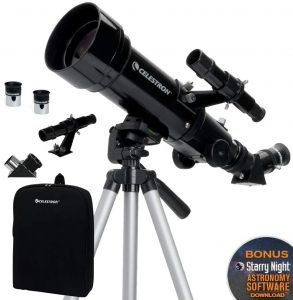 The universe is gigantic and never-ending. Kids are very interested in space, stars, the moon and alien planets. This telescope comes with a free download of one of the top consumer rated astronomy software programs, so your child will learn even more about space and what they should be looking for.
Best Tech Gifts for Grandparents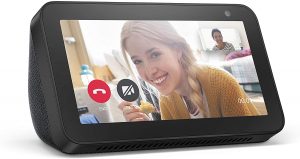 Video chatting can keep grandparents even more connected to their kids and grandkids. Grandparents are so full of love, knowledge and wisdom, and a video chatting device like an Echo Show 5 will keep them in the loop a lot easier than with a phone call. It is so simple to ask Alexa (the device's digital assistant) to call family members, and there are so many other cool commands you can ask of Alexa. If you need help with the setup of this device, our TechTeam are available to help.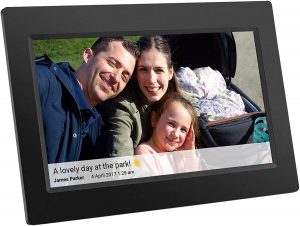 A great gift year-in and year-out. Grandparents love having photos of their kids and grandkids around their home and a digital photo frame allows for a rotation of photos of their beautiful family. Photos can automatically be sent to the smart picture frame from a free smartphone app. Let family connect their phones to your frame, so they can wireless share photos to it from their own home.
AeroGarden Harvest Hydroponic Garden (View on Amazon)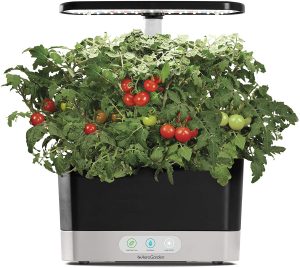 An indoor garden is sure to be a great tech gift for your grandparent. There are several different AeroGarden Harvest systems available. Grow your garden indoors during the long winter months with this easy-to-use system. Comes with high-performance automatic LED lights and a control panel that tells them when to add water and reminds them to add plant food.
Best Tech Gifts for Pets
Furbo Dog Camera and Treat Tosser (View on Amazon)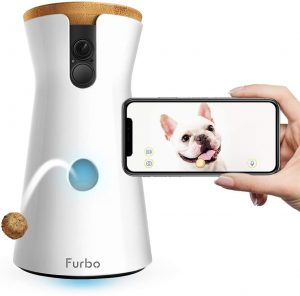 If love your dog as much as your dog loves you then this is the winning gift for your pup this year. The 1080p full HD camera lets your monitor your dog while you are away, or just check-in when you miss them. The two-way audio will detect when your dog is barking and will let you talk to and calm them. Every good pup loves a good treat, use the Furbo app to toss a treat to them when you are away.
Whistle Go Explore Pet Tracker (View on Amazon)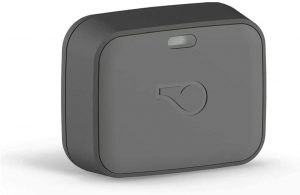 Have a pet that is a flight risk? The Whistle Go Explore pet tracker is a perfect gift to give you peace of mind knowing where they might be at. It clips right to their collar and provides real-time location tracking. You can set up alerts and quickly locate your pet. Set up a designated safe area in the app. You can also monitor activity levels, calories and sleeping, which can help diagnose potential health problems. A subscription is required for these services; yearly $7.95/mo or 2 years for $6.95/mo.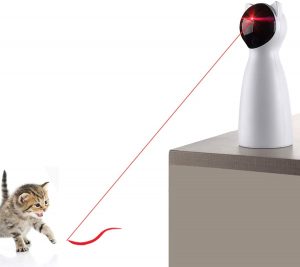 Have a curious and fun kitten who still enjoys chasing the evil red dot of doom? This cat laser toy will automatically turn itself on when it spots a cat come into the room. With five adjustable circling ranges, it will keep your kitten entertained all day long.
At Nuvera TechTrends, we know that technology can be a bit tricky at times to figure out how to set it up. We are always available to help you figure out that process. We can help link the device to an app in-store, on the phone, or in your home.
We hope you enjoyed this blog. Our goal is to inform you and make technology easy. Nuvera's local experts are always willing to assist you in your technology purchases from our retail locations. As an Amazon affiliate, when you buy through links on our site, we may earn an affiliate commission.