Did you know that you have likely given permission for apps and websites to have access to your Facebook account data?    The level of data that these apps have asked for has varied, but can include things like your name, friends list, your location, and even Facebook pages that you follow.
Typically these apps ask for this information when you want to play a game within Facebook, you want to login to a website with Facebook, or even sometimes when you are asked to complete a survey or other task somewhere on a different website.
Facebook has clamped down on the improper use of data collected with these apps, but it is still a good idea to take notice of what apps are installed and remove the ones that you are no longer using.
This is how to check the applications that you have given permission to have access to your data within your account:
From a desktop computer (facebook.com)
Click on the down arrow icon in the top bar of your Facebook account.
Click Settings.
Click Apps and Websites.

There are three tabs at the top: Active, Expired and Removed.  This is where you can review the apps that you have given access to some of your account information.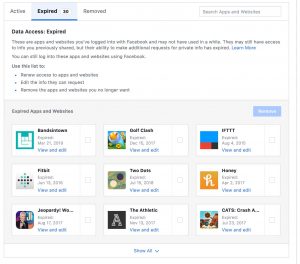 To remove an app, simply check the box to the right of the app and then click the Remove button.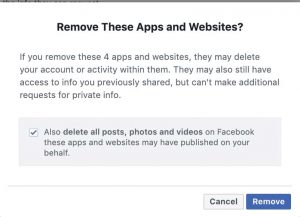 From the Facebook App
Press the three horizontal lines (to the right of the bell icon) in the upper right corner of the app.
Scroll down until you see Settings & Privacy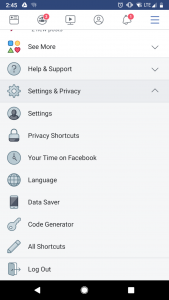 Press Settings.
Press Apps and Websites.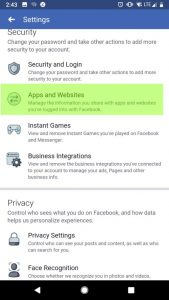 Press Logged in with Facebook.
This is where you see the apps that currently have data access.