If your router is 3 years or older, you could use an upgrade.
Welcome back to Nick's Picks! I'm Nick, a TechTeam member at Nuvera TechTrends, and this month we're going to talk about router awareness with the TP-Link AC1750 Archer C8 router.
We offer several routers at TechTrends, and each of them varies on the Internet speeds and service you will receive.
When choosing a new router, you should consider the number of devices you will be connecting, how many people will be online at one time, the type of range you will need in your home, and what those numbers and letters mean in the router's description.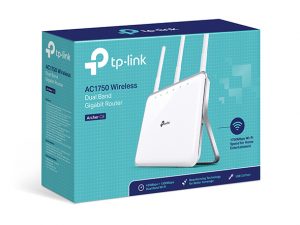 Let's talk about the TP-Link AC1750 Archer C8
The AC on the model stands for the support for the latest networking standards, which simply means it can acquire the speeds and signal that your Internet is giving out. AC is the latest model, and before that was N, G and B. If you are currently running an older model letter, you should consider upgrading.
The 1750 on the router stands for the maximum bandwidth available for the unit to be transferred. In this case, that's 1750 megabits per second.
The TP-Link Archer C8 broadcasts simultaneous radio signals, which makes it a Dual Band router. The 5 gigahertz (GHz) signal offers speedier connections at a shorter range, and the 2.4GHz signal offers a steadier connection over a longer range.
You can connect multiple different devices to the range that makes sense for them. If you are in need a steadier connection on a device in a room further away from your router, connect to the 2.4GHz signal. If you are focused on speed for gaming or streaming, you'll want to connect to the 5GHz band.
The three detachable antennas on this TP-Link AC1750 router will help intensify the signal it gives off. The antennas being omnidirectional will allow you to point them towards the direction your devices are located.
This TP-Link AC1750 router gives you the ability to set parental controls to keep your kids safe online. You can also set up a guest network, so you don't have to share your private password with people staying over.
If you're using a router class older than five years old, such as the N750, your home wireless connection could use an upgrade. A TechTeam can help you identify the router most likely to suit your needs.
The routers sold at TechTrends will be pre-secured with a wireless password, found on the back of the box, to ensure that your important information stays safe. Stop into TechTrends, or your local Nuvera office to learn more from our experts!